We offer Complex care of your needs in the purchase of new lubrication circuits and central lubrication systems.
Lubricating units and components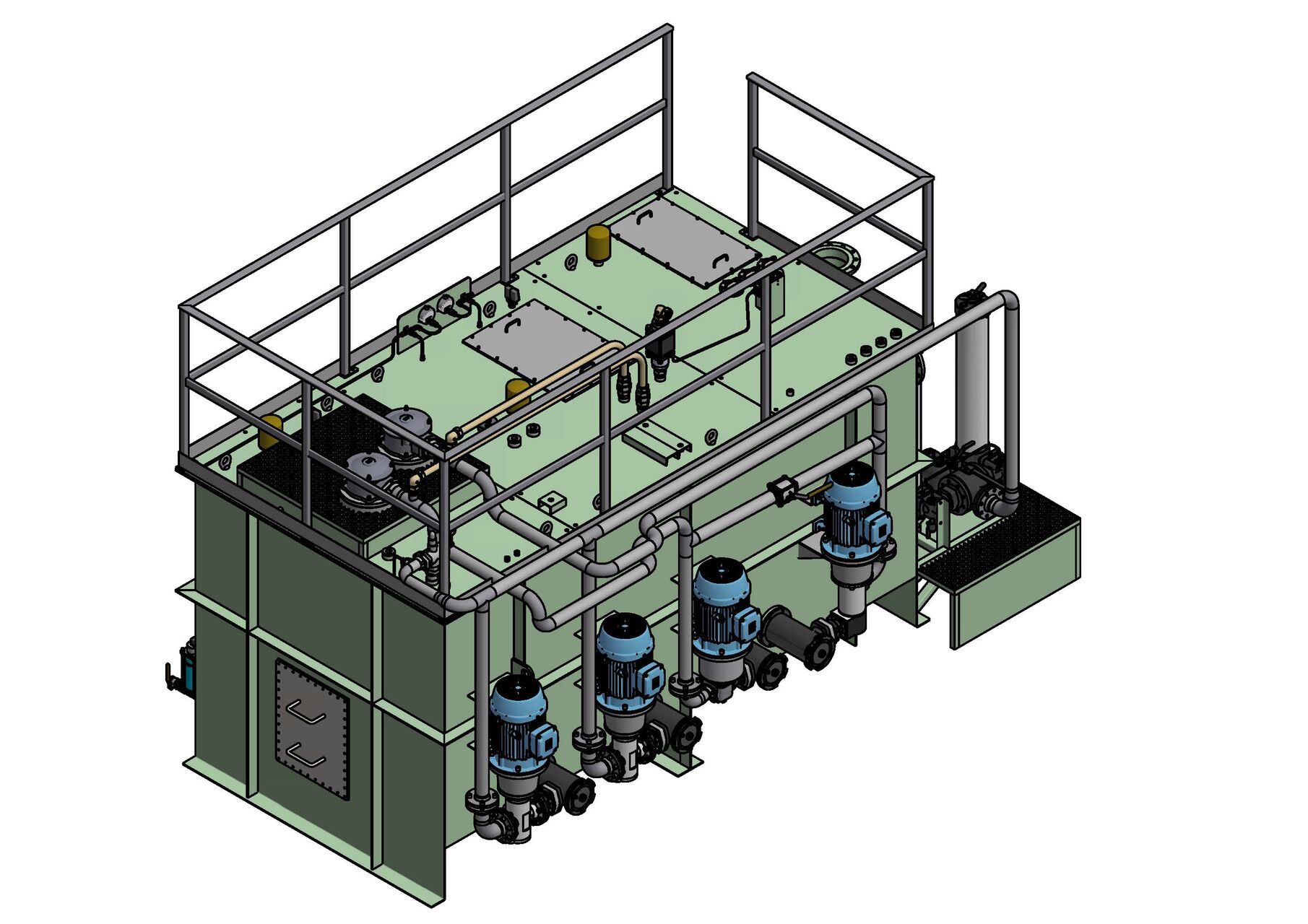 We offer Complex care of your needs in the purchase of new lubrication circuits and central lubrication systems. We are able to realize complete contract from design through producing, assembly at the customer, putting into operation up to guarantee and post guarantee service.
In the production we use long-term proven technologies, 3D design including modelling and verification of all relevant parameters of the product before its actual production. In systems we prefer units from Assalub and TheFlow, or Delimon components, which are producing a wide range of high quality parts with worldwide service. Central lubrication systems can be equipped with elements of another manufacturer according to customer needs.
Modernization of lubrication systems
After some time system requires renovation. It can be made by change, when we will design and deliver completely new system, or by overhauling and modernization.
Usually not all parts need to be replaced with new ones and there is a place to cutting cost for recovery of lubrication system.
We are offering you inspection of your actual lubrication system, design of the repairing or overhauling or modernization and its realisation in agreed with technical and financial frame and with appropriate guarantees.
Význam mazacích systémů spočívá zejména v: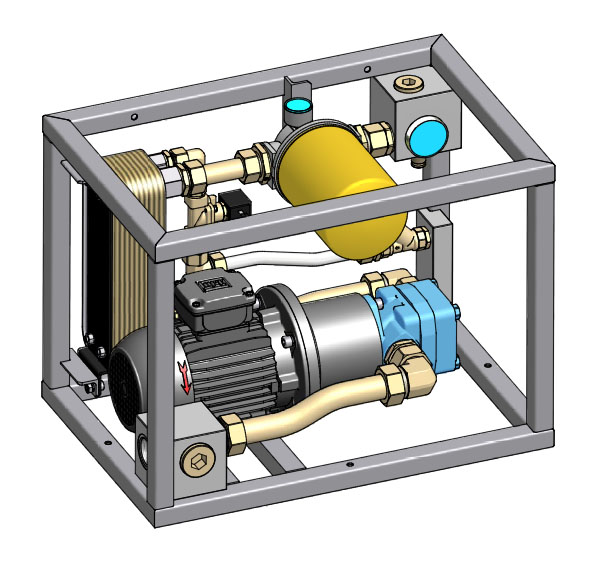 increased lubrication equipment productivity by extending service life and reducing downtime and increasing performance or speed

reduced operating costs thanks to energy savings (lower friction), spare parts, grease etc.

the elimination of the lubricated or unlubricated omissions

avoiding contamination of the lubricant with impurities

increase safety by eliminating operator movement around the running machine in hard-to-reach or hazardous locations

environmentally friendly by minimizing grease and handling.
---
Single-line lubrication systems
They are mainly designed for small and medium-sized machines used in a number of industrial areas, such as machine tools, printing machines, textile and construction machines. They are designed for lubrication with oil or liquid grease with a working pressure of up to 30 bar connected to the piston dispensers of lubricant. Lubrication units have electric, pneumatic or even manual drive. Block diagram SKF MonoFlex - the unit output is connected to the piston lubricant dispensers.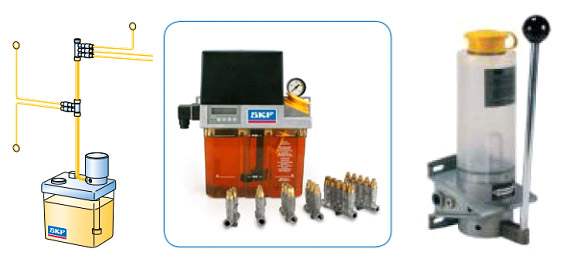 ---
Two-line lubrication systems
They are designed for medium-sized and large machines with a high number of lubrication points, long guides and demanding operating conditions, while allowing very good control of the function of the lubricant distributors. They are designed for lubrication with grease NLGI 000 to 3, liquid grease and oil with working pressure up to 400 bar connected to two-line grease distributors. In addition to the standard lubrication pump with an integrated motor-driven lubricant tank, so-called "drum pumps" fitted directly to the drum lid of 60 or 200 liters of lubricant in pneumatic or electric drive versions equipped with an electronic control system drive controls and device function.
Block diagram

SKF DuoFlex

System of lubrication of bearings of guide rolls of paper machine
---
Progressive lubrication systems
They are used, for example, in the printing industry, construction machines, industrial presses and wind turbines, and medium-heavy industrial plants. A feed pump or flow restrictor delivers lubricant to the manifold, which delivers progressively a defined amount of lubricant to each outlet. Progressive lubrication systems are designed for up to 150 oil, liquid grease or NLGI 000 to 2 lubricated points! One outlet of the lubrication unit is connected to a progressive manifold / dispenser system in block, segment or modular design with 2 and 20 outlets, flow rates from 0.01 to 6.000 cm3 / min and a system pressure of up to 350 bar.
Block diagram SKF ProFlex - with Lincoln P203 pump unit and SSV dispenser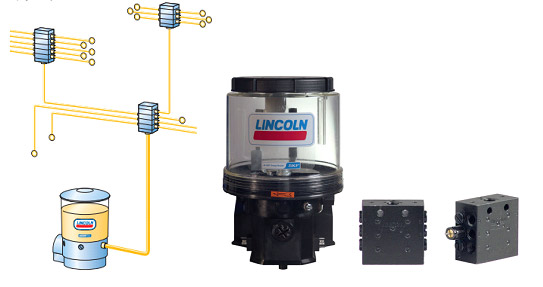 ---
Multi-circuit lubrication systems
They are designed for the lubrication of oil, liquid grease and solid lubricant of NLGI 000 to 3 class for automatic lubrication and small circulating oil systems, inter alia for machine tool, oil, gas and heavy industry applications. Pump units with integrated lubricant tank and multiple outlets deliver lubricant directly to the lubrication point without using any metering units. Each lubrication point is directly supplied from one given pumping element / section / pumping unit. The design of the system is simple, accurate and reliable. The pump units / multi-circuit pumps are available with 1 to 32 outputs and a working pressure of up to 400 bar!
SKF MultiFlex block diagram - with pump unit variants and outlets to lubrication points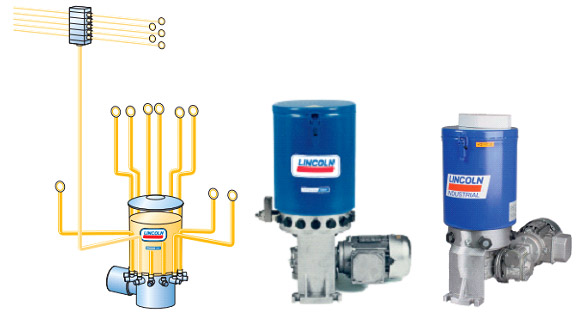 ---
Forced oil lubrication systems
They are designed for forced oil lubrication, not only for self lubrication, but also for cooling highly stressed bearings of machines of almost all sizes used in the paper and heavy industries. The systems effectively remove dirt particles, water and air.
SKF CircOil block diagram - especially used for paper machine lubrication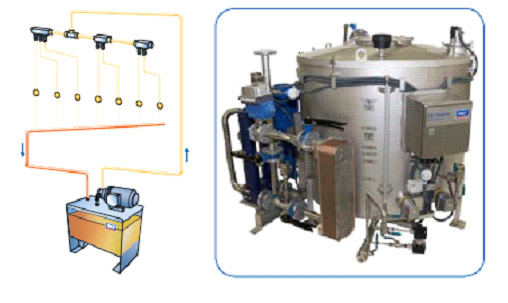 ---
Lubrication Systems Oil + Air
They are mainly designed for high-speed bearings, chains and special applications.
Block diagram SKF Oil+Air
---
Chain lubrication systems
Block diagram and unit illustration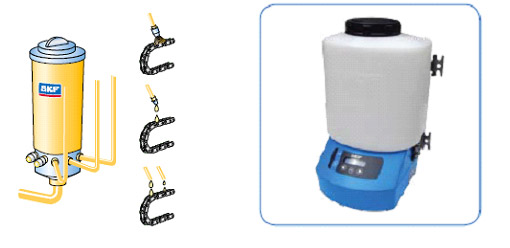 ---
Accessories, fittings and hand lubrication devices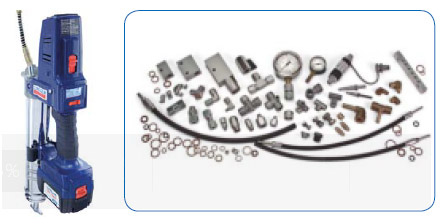 ---